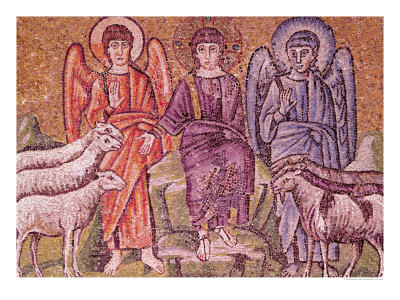 St. Matthew 25:31-46 – Second Last Sunday 2012
Zion Ev. Lutheran Church, McHenry, IL
November 17-18, 2012
In the Name of Jesus. Amen. So…what makes a goat goaty and a sheep sheepy?
Both have works – both the sheep and the goat. Both have fed the hungry. Both have given drinks to the thirsty. Both have clothed the naked and showed hospitality to the stranger. Both have visited folks in prison.
The difference…the difference is in who does the talking!
The goats talk about their works. The King starts speaking and the goats can tell him the where, the when and the how. They've got checklists and they've got calendars. They're on Santa's nice list, not the naughty. They do the work, they don't slack off.
"Hey Jesus! Look at all the good I've done in this place! Look at the time I've put in. I'm not lazy. The hungry, I feed. The thirsty, I give drink to. Last week, I visited that guy in the hospital who had that accident, and I just gave some old clothes to that single mom, and I'm dropping off a casserole for that family with the sick kid after church."
I'm always helping out. I'm always doing good… sometimes the only one who does it. I'm actually kind of a big deal. More people need to be like me!"
And if you seek to play this game, where you try to stand before God by the strength of what you do and don't do, by how you measure against someone else, how well you have and haven't done, how much you've improved…expect Jesus to say to you,
"But one time, you missed someone. And when you missed that one, you missed me. When you didn't care for the least of them you didn't care for me."
And then you're off to a hell that wasn't prepared for you or any man, but for the devil and all His angels.
The goaty religion does the talking before God: "Look at what I've done. Look at how I'm doing. I'm doing better, God. I'm getting better and better each day. Well, overall, at least I'm improving. I'm doing the best I can!"
But no matter how much good you do, or how many people that you visit, clothe, and feed, it doesn't change the One you miss, the One you don't care for, or the One you ignore. When you don't love – the least of these, you don't love Christ.
Now the sheep… well.. they are sheepy. No clue. They have NO idea how they ended up on the right side. They are oblivious to what they have done. They know only that the King put them on the right.
"Come, you who are blessed by my Father, inherit the kingdom prepared for you from the foundation of the world."
His sheep are brought into His kingdom because they are blessed by Him. His Kingdom is prepared for them. It's inherited. Neither earned nor deserved, but given. All of this was part of God's good giving before there was a world.
And you are a sheep, one of His own flock, because He blesses you today. He speaks to you. He sheeps you. He marks you.
His kingdom is handed down to you. It's prepared for you. It's put on you in Baptism. It's absolved onto you in His Word. It's bodied and blooded into you in His Supper.
Before there was a world, before there was universe, God planned to save you in Christ. Not arbitrarily picking you like some cosmic game of duck-duck-goose. No, on the Cross, salvation has been won for all people for all time, but specifically it was won for you.
So, when the Shepherd King separates the sheep and the goats on the Last Day, it wouldn't be heaven without you there. It wouldn't be eternal life unless you have eternal life too.
For before there was a tree, before there was a fruit, before there was sin, there was the Son of God going to be the Cross. Christ was going to die for you, to save you, to have you as His own, to speak this blessing to you
And by faith, because He's spoken to you, He's already separated you from the goats. The Lord's messenger, his angel, has already separated you in the waters of your Baptism. You are His sheep, His people.
You see, this Word hasn't been spoken to you to make wonder if you are in or out, whether you are sheep or goat, but so that you would take comfort that you, even you, are a sheep.
No doubt about it. God's Kingdom for you as sure as the Word spoken to you, as surely as the waters of your Baptism, as surely as the Body and Blood of Jesus.
You are on the right, on the sheepy side, and you will inherit the kingdom prepared for you before the kingdom of the world.
And notice who is doing the talking? The goaty religion starts and ends with what us talking about what we have and haven't done. But, the faith of the sheep, your faith, the True Faith, begins and ends with the Cross of Jesus Christ.
The One who talks about the sheep's works is the King! He goes on and on about all you have done. The hungry are fed. The thirty get drink. The one in need of hospitality or clothes, gets served. The ones in prison, they get visited.
The sheep? You look up and say, "What? When? What are you talking about Jesus? When did we do these things?"
"When you did it for the least of these, you did it for me!" Your works are Jesus' business. His words are your business.
Sheep leave their works, their goodness, their faithfulness to Him. His Cross, His works, is their justification before God. It's their forgiveness. Their life.
You are His sheep. His Cross, His works, is your justification before God. It's your forgiveness. Your life. Your salvation. Your inheritance.
And if you look at your life and think, "Well, I could do more.." Then, do more. Repent of of your sins, your neglect of your neighbor and family. Give more, love more, do more around this place. Quit hoping you could be better and be better.
But, don't stop with all that you doing…run all the more to the Lord's gifts. His word, His blessing, His pardon.
Trying to be a sheep only makes you end up a goat. Trying is all about goaty works.
But when the Son of Man comes in His glory and all the angels with Him, the Lord will put you on the right side. Leave your sheepy-ness to Him. He will go on and on about your works on the Last Day. You receive Him today – in the Word, in the water, and in His Body and Blood.
For sheep receive as a gift the eternal life – the kingdom prepared for them on the Cross before the foundation of the World.
You are a sheep. You receive this as a gift. His words be the final word on your sheepyness. In the Name of Jesus. Amen.